01.02.2018
The Winners of the "Best in Profession 2017"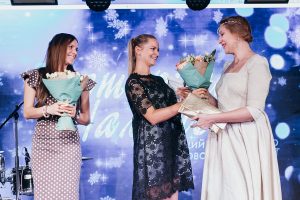 The official award ceremony of Volga-Dnepr Group IV Annual Professional Competence Contest took place on the corporate New Year celebration in Moscow on December, 20th. The full award ceremony video is available here.
2017 was announced by Volga-Dnepr as a year of Customer. The contest initiated by Corporate University enabled participants – over 30-employees of the company worldwide – to tell their colleagues how their experience and knowledge helped bring a certain value for the Customer. For this purpose, each contestant wrote an essay on what value he/she had brought to the customers of our Company. You still can find all essays on the corporate website on the link.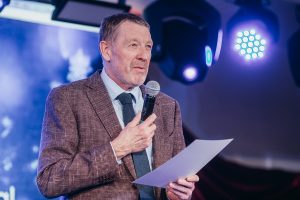 When giving one of awards, Alexey Isaykin, Group President wished everyone happy New Year and noticed that there were good reasons to thank the year 2017, ourselves and customers for walking past this year successfully and laying the foundations for the future.
There were seven nominations corresponding with Volga-Dnepr values. For the first time, not only were winners chosen by the expert committee, but also through an open voting on the corporate web-site.
Let us introduce the winners of the "Best in Profession 2017"!
The award for Cooperation, or Principle Formula of Success is Communication Skills went to Igor Zakharov, Leading Specialist CCO Efficiency Improvement, VDA.
– I'd like to thank all colleagues who voted for me, as well as FOCC managers who nominated me for this contest, – expressed his gratitude Igor Zakharov. – I have been working for VDA for a short while, so the very fact that I've become one of the finalists is a great achievement to me. I managed to look through several essays and found out that I have not even known about some Group activities. I was pleased to realize that my colleagues work in such various fields and achieve praiseworthy results.
The award for Cognition, or Your Unhappiest Customers as Your Largest Source of Knowledge went to Darya Vdovina, Leading Manager, Regions, ABC.
– I really liked the quotation from Darya's essay: "Work should not be detached from reality, unwanted, inertial; work should have results, bring a certain value to your customers – both external and internal," – pointed out Alexander Bashkov, General Director, ATRAN, when giving a just reward to the winner. – What a deep philosophic idea underpins her words! Well done!
The award for Development, or Create a Customer, not Sale went to Denny Yu, Regional Operations Supervisor, ABC.
– It's great honor to me to be nominated for "Best in Profession!" – Denny shared his impressions via video link. – 2017 is my seventh year in this company. As for me, working is not a burden but an inspiring and interesting activity.
The award for Eliminating threats, or If You Do Not Care about Your Clients, Someone Else Will Do This for You went to Vladimir Abaskin, Load Master, VDA.
When presenting the award, Pavel Popov, Director EFA – Chief Accountant, ABC said:
–I'd like to thank Vladimir. It was so wonderful to read his essay and see how deeply this value – threat prevention – was engrained in him. Not only is this value of great importance for the company, but also for daily life. The more such people work for the company, the happier and more successful our company will be. Congratulations to Vladimir on this outstanding result!
– Thanks to everybody who has supported me, thanks to my colleagues I work with to achieve the company goals – expressed his gratitude Vladimir Abaskin via video link. – Having the moment, I wish everyone happy New Year! I wish everything we have gained this year to gradually transfer to 2018. Be healthy, lucky and I wish all of us to be sure about the future.
The award for Health, or Work is a Salve, It Is a Source of Goodness went to Naoto Koshikawa, Operations & Ground Handling Manager, АВС.
– I believe everyone understands how important Health as a value is, – pointed out Sergey Lazarev, General Director, ABC. – When congratulating someone, we always wish good health. Health and work are inseparable. I am happy that the winner is our employee from Japan. We wish him all the best and, of course, health!
– Thank you so much for provision of this opportunity. I did not expect this nomination. I am really happy to join you! – expressed his attitude Naoto Koshiawa.
The award for Honesty, or It Is Beneficial to Be Honest went to Brandon Lee, Operations Officer, АВС.
The award for Recognition, or Revolve Your World around Client, and More Clients Will Revolve around You went to Lian Wei William, Customer Service Supervisor, АВС.
– I have been working for AirBridgeCargo for over nine years. And I am really happy to work here with you altogether! – thanked Lian Wei William via video link.
The final nomination was People's Choice Award. Following the voting results, the most number of "likes" went to Ekaterina Nalyotova, Leading Aircraft MRO Planning Engineer, VDTM and Tatyana Buryukova, Training Arrangement Specialist, VDTM.
All winners in the nominations will be given money reward, and voting winners and the authors of the best essays – an additional day of paid vacation.