30.10.2017
"Take your hats off to the past, but take your coats off to the future"
From September, 26th till September, 29th, in Moscow, took place the third training module under the Strategic Management Reserve Training Program (the second recruitment). The participants developed their professional and management competences in managing economy, finances, accounting, and mastered leader's tools of influence.
As usual, the training session was open by a creative task – the reserve members were divided into groups to design an emblem of the module based on Volga-Dnepr Values. As a result, they developed a puzzle which set a tone and created an atmosphere for the following four days of training.
Later on the first day, Lilia Khousnoutdinova, Ethics Director led verbal duels. The reserve members and expert leaders will not forget them for a long time!
Marina Nesterova, Head of English Language Education Department helped the participants to write letters to customers, proposing functional cooperation, using all nuances of business correspondence.
At the end of the day, there was a training session on manager's image, held by Galina Isaykina, Head of Corporate University. This training session stuck in everyone's memory. It turned out that choosing clothes so as to make a desirable impression was a matter of art!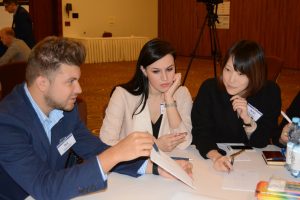 The second day was fully devoted to the subject of EFA – economy, finances and accounting; the role of speakers was played by the following corporate experts including the reserve members themselves:
– Olga Markina, Leading Economist on Management Reporting Analysis, VDM, who presented a report on budgeting and calculation;
– Rasym Shakirov, Head of Management Planning, Accounting and Reporting Department, VDM, a member of the second recruitment of "the Future Leaders" program, who spoke on management reporting;
– Lyubov Kamalova, Deputy Director Economy, Finances and Accounting – Chief Financial Officer on Economy Matters, ABC, a reserve member of the second recruitment as well, who presented a report on the subject of "Management Decision Effectiveness Assessment";
– Denis Seleznev, Director Economy, Finances and Accounting – Chief Financial Officer, VDA, who spoke on CCO and SCO economy;
– Alexey Batov, Finances Director, VDM, with a presentation on the interrelation of main, investing and financial activities;
– Natalia Plotnikova, a key member of the "100 trained managers of a new leader generation to implement the strategy" project, reporting on "Work, Rest, Training and Family Plan";
– Vladimir Ostroumov, Head of Corporate Reporting Department, VDM, a member of the second recruitment, who presented an introductory course to international financial reporting standards.
Being devoted to further and more detailed reviewing EFA, the third day was action packed as well.
Beginning his speech, Alexey Isaykin, Group President pointed out: "Values are an absolutely practical tool for building relationships with customers, suppliers and within the company".
Sergey Shklyanik, Group Senior Vice President was the one who elaborated on the main terms in the field of finances and economy. Sergey told about planning/reporting tools applied for effective management.
Then, Sergey Kuznetsov, Founder and President of SNK VENTURES Private Direct Investment Fund (USA), a stockholder, ALL METALS Board of Directors Chairman said to the participants how to "become appealing" to an investor and told secrets of investment attractiveness.
Boris Poretskiy, a partner, Head of Transportation Industry Consulting Business in CIS, Ernst&Young, made a presentation named "Air Carriers' Performance and Efficiency," researching performance indicators and giving examples of management decisions.
Maxim Malezhin, Executive Director Sberbank Strategy and Technology Development told the participants about a new trend – a platform business and ecosystems within companies.
It was followed by a workshop on digitalization. The reserve members were involved into development and further implementation of Volga-Dnepr Digital Strategy in the field of EFA by Vladimir Preobrazhensky and Alexey Kukanov, Director IT.
The day was finished by an inspirational leadership workshop by Sergey Shklyanik. He said: "Leader knows where to go. He goes to the set goals and leads other people." In conclusion Sergey said a German proverb "Take your hats off to the past, but take your coats off to the future," wished the reserve members all success and expressed his confidence saying "You will do it better."
On the fourth day, the reserve members were acquainted with leader's tools of influence by Greg Matters, Adizes Institute Advisor. He told participants how to build effective management communications and how to make employees loyal and responsible.
Here's what the participants shared:
Kirill Khroni, Analyst of Asset Management Division, VDM:
– The Module has left bright and diversified impressions. "Search for problems within yourself" – this was the first thing to have been remembered from the speech of Mr. Adizes. Upon solving internal problems, you will be able to see what should be done at the outside on the ladder of success. Watch you style, learn business through the lens of accounting while diagnosing weaknesses. Study calculation pattern and then you will understand the substance of the service and how to maximize benefits. This is just a small part of lessons we have learned during the four intensive days. Thanks very much to the Company and organizers for the invaluable experience and knowledge!
Yulia Celetaria, Customer Service Manager, Global Standards and Training; Global Customer Service Deputy Director Pharma, ABC:
– It was an excellent module from start to finish. The structure was interesting and informative, organization was excellent and the very experienced Trainers and Speakers gave each one of the small round table of the 'students' every opportunity to give their views and speak openly about their experiences and ask questions on such complex topic as Economy and Finance. Discussing the application of legislation in Finance and other processes in our business and comparing experiences within Group of the Companies was very valuable.
A very refreshing approach on day 1 with random order of the presentation on the Business Etiquette and dress code by Galina Isaykina was quite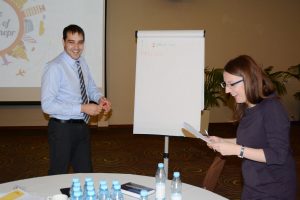 unusual but helped us to activate our brains from the very start of the module- was quite an effective technique. I would also like to give a huge compliment to Lyubov Kamalova who managed to deliver a very complex and expanded content of her presentation in a very comprehensible and interesting manner. Overall, the module helped me in all areas that I was previously unclear about. I took away many tips and loads of information. Thank you and I am definitely looking forward to the next module in December.
George Shklyanik, Head of logistics support department, VDA:
– All future Volga-Dnepr leaders may consider themselves experts in their fields. In one respect, this is an advantage, while in the other respect, this gives rise to narrowness of vision. Many of us are merely indirectly associated with the budgeting process, and not fully understand all possibilities and related restrictions. Training under Module Three made us to have a broader look at all our businesses, and I am assured this training will have its positive effect on everyone and the products we work out. And will surely become an important tool in our hands when being promoted to managing positions at the Company!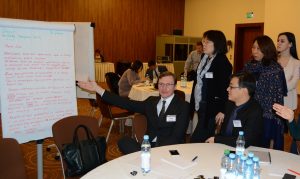 Evgeny Demin, Manager, Ground Operations Procurement, VDA:
– For me, Module Three was a special interest as finance is not my direct speciality. Therefore, a view to VDG businesses in "finance sauce" is very helpful to make the picture complete. I cannot but mention the difference in information serving dynamics, from measured and settled (V. Ostroumov) to "explosive" (L. Каmаlоvа). Communication with V.V. Preobrazhenski made me to mobilize the full thinking capability, so much impetuous was his flight of fancy. Each approach has its own strengths, and this enhanced positive effect. To me personally, the common thread of all training was the following idea: We have a goal and values. All the rest depends on your goodwill and choice.
Anton Grechukhin, Deputy head of IT department, ABC:
– Most of all, I remembered the inspiring speeches by Alexey Isaykin and Sergey Shklyanik. Regarding the main module subject, I liked the speech by Lyubov Kamalova. She managed to explain finance terms unknown to me using plain language.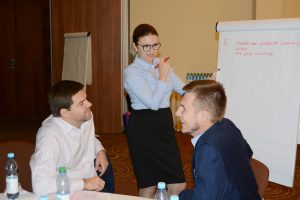 Inna Saier, Manager, G&A Purchasing, Moscow Branch VDA:
– This Module was saturated with information more than ever. Our colleagues from finance-related divisions have presented a sufficiently comprehensive report on what economy, finance, and accounting are; how management accounting differs from cost accounting; what IFRS means; what performance items are included in manpower, rest, training and family programme. I would like to mention Rasim Shakirov with his style to present information, use analogy, or joke sometimes, when these help illustrating the subject.
Galina Isaykina delivered a business style mater class. I have known something, I have learned something from G. Isaykina at an earlier seminar. This time, effects of beige umbrella and cherry ripe colour became real discoveries to me.
At Ichak Adizes seminar, I was greatly impressed with the success formula clip which may be applied to both country and organization, or even family or person. This formula provided one more vision angle in respect of successfulness of a person, a group of persons or an organization.
A report by a Sberbank representative was very interesting. This regarded various types of platforms and the one they are working on currently.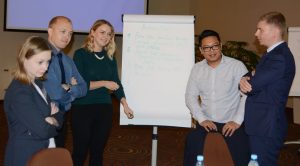 Perhaps, the most memorable point of the training session was the workshop delivered by Sergey Shklyanik. This was done in one breath although it was conducted at the end of the next training day. The workshop included both pieces of advice and stories from experience. I have remembered Mr. Shklyanik's phrase: "Do not wait for right time and place, but look for them."
Jane Sun, Regional Financial & ADM Manager-APAC, ABC:
– I was deeply impressed by the courses of module 3.
For Day 1, the courses of effective writing and correct dressing were useful and interesting. We can write but not effective always. Through the course, we acquainted with summarized writing skills which will help us to get expected results. As for dressing, we get lots of info on proper official dressing to maintain the corporate image.
For Day 2, even though I am financial staff, I still achieved a lot of new knowledge on management accounting including new concepts on costs, budget, income, etc.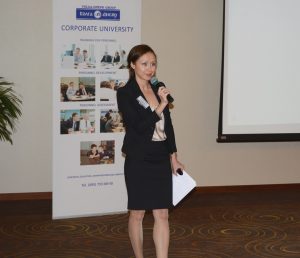 For Day 3, the boss gave the speech on company value and strategies. The animation of boats on relationship among VDA, ABC and CLA is vivid.
For Day 4, the managerial communication told us the special behavior analysis on PAEI different angle from color analysis. It will help us to cooperate with different counterparts in effective and efficient way.
Thanks a lot for your arrangement during our training.
Dmitriy Malkov, Procurement Director, ABC:
– The Module included some known subjects featuring new things to me. Besides, as they say, practice makes perfect for a better digestion of knowledge. I liked very much the speech by Ichak Adizes within TOP Class School with a sub-standard approach to supposedly ordinary problems, that makes you think and view the world around at a different angle. As always, I very much liked speeches by our Top Managers. Each time I note what valuable experience they share with colleagues. This can be absorbed for hours and hours in one breath. In my opinion, this is what you would not find in any book or other source available to general public.
Igor Gordeev, Lawyer, VDТМ:
– Module Three of the programme met us with fairly diverse information. The most informative was the Economy Theory Day. Of course, such a huge amount of knowledge also requires digestion and review, however many important points have stayed in memory at once. For example, information on management accounts and IFRS. It became clear why the Company spends colossal resources to generate them. I would like to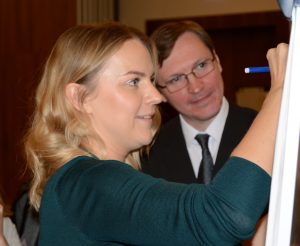 emphasize a report by L. Kamalova in which she managed to present such a complex subject in a dynamic and interesting manner, which allowed the knowledge to be best remembered. I would like to specially mention a report by Sergey Shklyanik on one's own way. He inspired us. And what's most important, I obtained the main answer: "When you are not ready to die for a cause, you better not take it…"
Also interesting was the module devoted to digitalization of VDG. A great number suggestions was made, and what's most important, as it turned out, there are all opportunities for implementation in the near future. Generally, Module Three was very intense and interesting. Thanks to the Corporate University for the presented opportunity!
Vladimir Ostroumov, Head of IFRS Reporting, VDМ:
– I liked all speeches without exception made by our EFA specialists on the second day of the training session. Notwithstanding that I work in this field, I have obtained a better idea of all functionality. Teachers were cheering us with unconventional and targeted approach. Reserve "Students" from various areas have managed, in my opinion, to obtain necessary idea of economy, finance and accounting. When, two years ago, I took a floor at the first "Future Leaders" session, I slightly changed the stylistics of my presentation by making it more comprehensible. I liked very much the "Success Formula" idea of Dr. Adizes. Everything of genius is as always simple. Success from outside will come when there is harmony inside the Company and a concerted effort of all internal mechanisms. I am sure this formula works in all life situations, and this definitely should not be forgotten while at workstation. I was impressed with the speech by Sergey Shklyanik and his attitude to leadership. I am very thankful to the Corporate University for this opportunity only. I have reconsidered much. Thanks to Alexey Isaykin, I once again realized an absolutely practical nature of VDG values and the necessity to share and follow when working at Volga-Dnepr (a vivid reference to the Success Formula by Dr. Adizes). This was generally a very positive training module!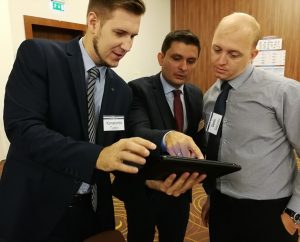 Mikhail Panov, Head of Regulatory documentation and analytic group, OCC, ABC:
– I remembered best the leadership training delivered by Senior VP Sergey Shklyanik. A deep emotional message supported by high professionalism and extensive experience was for sure felt by all participants of the programme. This training gave me an opportunity to have a new look at my leadership skills, to think over what must be further worked on. Besides, it was informative and interesting to learn about Mr. Аdizes' contribution to management theory, "PAIE" concepts, "Perception of Reality" and particularly his methodology describing "Organization Life Cycle". This gave me understanding of simultaneous simplicity and beauty of the approach, that it is much more efficient to give up solving problems of an organization, and teach it to solve problems by itself, thus to teach itself and become "perpetual". I think this is among key factors which allow to achieve the Volga-Dnepr Group's General Foal 2030: "Perpetual" professional organization being a leader in the global air cargo industry."
Maria Ermolenko, Director, QA and Ethics, VDA:
– Module Three turned the most interesting to me. Alexey Isaykin helped us realize how closely economy and finance decisions are related with VDG values. Also, I have understood at last a complex system of finance performance indicators in the Company's activities, learned much new on SCO business and passenger operations. I would like to note speeches by L. Kamalova and E&Y representative. I will review these presentations in more detail at my workstation. It was great that our video clip on VDG values has taken the first place. Well done guys!
Leadership Workshop presentation by Sergey Shklyanik was of interest. Advice and principles he follows in life present a combination of leadership experience and lessons learned. Also, I learned about the dress code, and how to write business letters in English. All this will help me resolve my objectives more efficiently. Thanks to organizers of Future Leaders for such an eventful and useful programme!
Nailia Shigabutdinova, Leading IFRS & MA speсialist, VDA:
– The module made a positive impression on me! It was useful to refresh and acquire new knowledge on economy, finances and reporting. I'd like to thank my colleagues for their reports: А. Batov, R. Shakirov, V. Ostroumov.
The most memorable moment was Sergey Shklyanik's speech on Leadership. It was very valuable to learn his experience and get his advice.
It was concluded that there was no universal natural recipe to be a leader; everyone becomes a leader with such a set of tools which is available to him. It is obvious that all leaders have different knowledge, experience and other background. But an ability to foresee the future, make a choice in a changing environment and build a team is common for all leaders. Out of external experts, I would distinguish B. Porezky (EY) who told us about strategic and commercial indicators of transportation companies and decisions made on their basis. All in all, I'd like to express my gratitude to those who arranged the whole event and to my colleagues for an effective training session and for their work.