19.01.2016
The Future Volga-Dnepr Leaders training program is completed!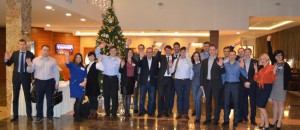 The final module of The Future Leaders training program was held on December 15-18 in Moscow. We asked "the future leaders" to share their impressions on the module and the program in general. Here are some of their opinions.
Andrey Agulov, the head of the property management department, VDM:
– I'm really happy with the program. It's a feather in the cap for our group. If Sberbank is famous for being the first non-production company implementing LEAN-management, then one can be confident that Volga-Dnepr is the first aviation company in Russia launching the leaders program. And this is not accidental.
We are an indisputable leader in the market of the unique and oversized cargo;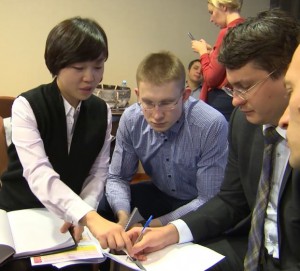 We have the status of the first Russian airline performing regular cargo flights;
We are the first in Russia to operate the most modern cargo plane B747-8F.
2015 has become the time for re-consideration, the time calling for more professional approach to the issue of leadership. Rich in experience of growing leaders we made a transition from a chaotic search for leaders to the level of an advance training of leaders, those who are meant to realize Volga-Dnepr future strategic goals.    
It's worth mentioning that my colleagues and me are the first graduates of this program. This is both responsibility and extra motivation. And there is no doubt that we'll be able to meet all the expectations and be a good example for future generations of leaders.
Vitaly Andreev, the head of the customer support center, Volga-Dnepr Airlines:
– All four days of the final training module have been imbued with one idea – we are now facing an absolutely different paradigm where long-term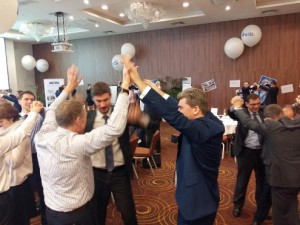 predictions don't work. So, the crucial competence of a leader is to feel the difference and to act in accordance with daily changes. I'd like to mention Sergey Vorobjev's realistic and sensible view – his words are able to touch the most sophisticated listener. Another credit is to a very professional lecturer Sergey Kravchenko for the LEAN technologies course which has been very well embedded in our memory. I hope that the future leaders training will become a good tradition and a permanent company practice, as it contributes much to personnel and the company development. 
Konstantin Surkov, the chief accountant, VDTM:
– I benefited much from the future leaders program. I was able to arrange the knowledge I'd had before the training. I also gained new knowledge to apply at my working place. I'm going to share it with my employees.