08.12.2016
Entertaining management: We were loading the plane…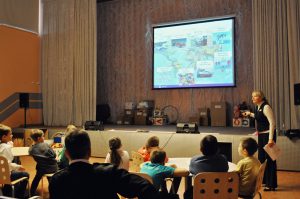 Yachts in Monte-Carlo, race cars in Melbourne – or vice versa?
First centering, then lashing – or vice versa?
The sixth seminar of the 'Entertainment Management for Kids and Adults' program was full of tasks and puzzles.
The preparation scope of the seminar devoted to transportation management is as impressive as the geography of flights performed by the company:  100 metres of ropes, 60 pasteboard boxes, 250 units of the stationary and almost 300 presentation slides were prepared by the Corporate University specialists together with Transportation Organization Department specialists.
At the beginning of the seminar the children 'turned into' maintenance teams to service three types of aircraft. Having received real maintenance release they got down to work.
The next seminar is scheduled for January, after the New Year's holidays.
This is what Kristina, the seminar participant, shares:
– I am really fascinated by the project 'Entertaining Management". I attend every seminar, and look forward to the next. This is because they are so different and interesting. Thank you to the CU teachers for giving us an exciting opportunity for learning!