16.11.2016
Entertaining Management: Who is the boss in the sky?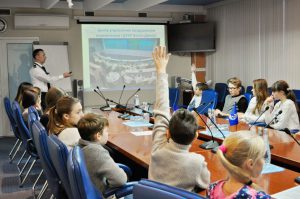 «Wow!" – this is how the kids were entering the Volga-Dnepr office "sanctum" – Aviation Transportation Management Center! Another seminar of the CU project "Entertaining Management for Kids and Adults" was devoted to aviation transportation management.
The seminar started in an unusual classroom – the VD president's meeting room, which added to the kids' feeling of "adulthood".
Sergey Smirnov, senior dispatcher on organizational flight provisions, briefed the children about aviation transportation management.
Then, the teams got the route cards and started the quest which included case studies, tasks, master classes, and, of course, prizes and presents from the company.
– I enjoyed the seminar, – shares Ilya Isayev. It was interesting to know how the aircraft were controlled in the office and to learn about new professions. Thank you for organizing the seminar and this project. It gives a lot of positive emotions and new knowledge. And that cake for the closure was really tasty and nice. I wish we would have more of such practical seminars!
– This is not my first time in Aviation Transportation Management Center. And every time I like it even more and want to come back, – adds Kristina Nezhneva. – This is the airline heart, the most important place for people and aircraft. I really enjoyed making the route, feeling like a navigator.
On behalf of the Corporate University and the seminar participants we thank the Center team. These are dedicated professionals inspired with their job – really worth learning from! 
Next project seminar is planned for November 28.
All seminar photos and comments are available in Project Group in vkontakte.