19.04.2016
April, 22 – English Day!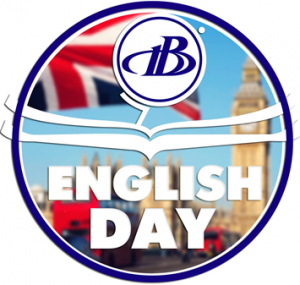 We are happy to announce the ENGLISH DAY to be held this Friday on April 22. All the company personnel disregarding the English level are welcome to participate in exciting contests, thematic "stations", and many other entertaining activities.
The date is not a random choice: the international English Day is celebrated this week (April 23d is Shakespeare's birthday). English is the official language of Volga-Dnepr Group. The company success and development can be achieved only if we – executives and employees – speak the same language with our colleagues and customers across the world.
The Language Learning Policy on personnel language education was developed within the strategic project "100 new generation executives to lead the strategy realization". The Policy is meant to create a supporting language environment in the company which will make the language learning easy and exciting.
Below are the options to join the ENGLISH DAY:
1) Visit our thematic stations!
The thematic stations will work in the company offices both in Moscow and Ulyanovsk from 10:00 to 12:00. You can start from any station you like and then proceed to others. Whatever sequence you choose you will get the points at any station. The participants who gained the highest number of points will be awarded.
Here's the list of stations to join (may differ at different offices)
• «Your game»;
• The literary game «Burime»;
• Cinema hall;
• Aviation English;
• Business English;
• Music hall.
2) Write an essay «Mastering the English Language. My story of success»!
E-mail your essays to Corporate_Education_Department (deadline April 25). The best essay will be awarded!
3) Solve the crossword puzzle!
The prize crossword in the English language will be published on the DAY, April 22.
4) Join the English Speaking Club!
The language celebration will be crowned with another meeting in the English Speaking Club (in the company offices in Moscow and Ulyanovsk), to sum up the results and award the winners!
5) Stay in English all the time!
This day we invite you to speak exclusively English: in e-mails, on the phone, at lunchtime. Do not be afraid of making mistakes! Let us make a common contribution to the creation of the common language environment!
The next newsletter on April 21 will provide you with the detailed event map.
– Alexandra Bogdanova and Olga Isayeva will be happy to answer your questions (phone 2807).