12.12.2015
Effective and long-term procurements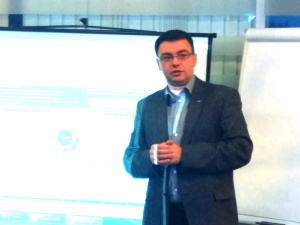 On 20 November there was held a seminar "Long-term procurements" with Denis Ilyin, the Executive President of ABC, as a trainer. The seminar was organized within the framework of procurement school of the Corporate University.
Denis Ilyin spoke about perspective objectives in ABC and about the role of the procurement team in their implementation. Another subject of his speech was long-term procurement planning. Denis precisely and comprehensively explained how to be an effective communicator during the negotiating process, how to choose strategic suppliers and how to maintain long-term relations with them. He also spoke about conditions which are necessary to substitute external procurements for the own service and production.
After that the leader of the procurement school Dmitry Malkov divided the attendants into four groups for the practical task: "What do we need to implement long-term planning and what does it get us? (SWOT analysis) "
– The seminar made a good impression on me, – shares his view Dmitry Kulish, operational procurements specialist, ABC. – The subject was really important, and Denis gave us some useful advice.  In fact, we are already applying lots of techniques that he told us about when preparing for negotiations, communicating with the regional representatives, considering the needs of our agents, concluding long-term contracts, building relations with monopolists, tendering for the best terms for ABC. Regarding what I personally learned and going to apply practically – it's improved negotiating and field-specific skills. It was interesting to learn that in case the conditions change you may ask the agent to afford privileges regardless the previously written agreements.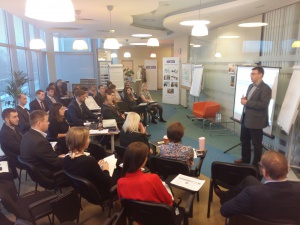 – It was fantastic! – says Anna Khusnutdinova, procurement strategy and operations specialist, VDM. – It was the first time I attended a training conducted by Denis Ilyin, and to be honest it's a shame that he doesn't act as trainer on more occasions. The procurement team looked at their work as one of the major business processes for the strategy implementation of ABC and Volga-Dnepr Group as a whole. We are looking forward to our further cooperation with Denis Ilyin in the procurement school!
– I'd like to point out a very well-structured material presentation: it was done in "from the general to the specific" format with specification of financial and economical performances and the role of procurement management function in the management system of VDG, – adds Andrey Onushko, strategic management specialist, scheduled operations expert, VDM.
– Within the framework of this seminar Denis Ilyin told us about negotiating techniques and described the principles of behavior during negotiating process. It was also interesting to learn about work approaches which we use when establish relations with the current and would-be service providers, – shares his impressions Artyom Tatarnikov, analyst of the fleet development department, VDM.
– The seminar was just great! And the fact that it was conducted by a top executive – I mean Denis Ilyin – helped to create special atmosphere which encouraged us to gain some useful skills and experience in the field of long-term procurements, – summarizes Andrey Savosin, maintenance procurements specialist. – I was absolutely impressed by the Denis's performance from which I recapped tactical and strategic nuances of negotiating process. I'm sure I'll be able to analyze and put them into practice and improve my professional skills.