07.03.2018
Strive for Knowledge! The Third Contest on Description of Key Company Milestones Starts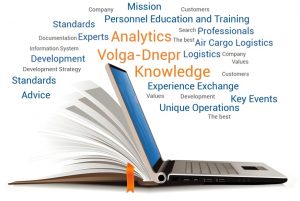 We often wonder:
— what we should know and do to move forward;
— where we can find necessary information and documents;
— who we can ask for advice.
These and a lot of other questions are answered by the strategic project 2020 "Aviation Industry Knowledge Center. Team of the Best Air Cargo Experts".
Our achievements so far:
– a list of experts developed,
– circa 100 key events/milestones described,
– articles on the Company's people of work written,
– a unified information system of the knowledge center developed,
– knowledge identification, acquisition and accumulation techniques tried out!
Now you are given an opportunity to take part in the Contest on Description of Key Company Milestones and contribute to the knowledge system!
Until the end of April 2018, choose a key event from the list, find information, talk to experts, prepare your material as required and it will become available to all Volga-Dnepr's employees and customers thanks to the unified information system!
TOP-3 participants will be given a traditional award – a round-trip ticket to any city of the Group's continually growing scheduled route network!
Here and here you can find the results of the previous contests.
We are waiting for your applications till March 15, 2018. Please email them to:
corporate_education_department@volga-dnepr.com
You can download an application form and a key event description form and example.
Should you have any questions feel free to get in touch with:
– Eleonora Surina, a key participant of the "Industry Knowledge Center" project and Accident Prevention and Flight Safety Management Director (int. 1027);
– Yuliya Tolmacheva, Administrator of the "Industry Knowledge Center" project and Analyst Expert, Project Management Division (int. 2592).