10.09.2019
Knowledge Center Is Forming Expert Communities
On August 19-20, at the initiative of Volga-Dnepr Group, the international conference "Information Systems on the Service of Flight Safety" was held at the headquarters of the Interstate Aviation Committee (IAC) in Moscow. This was the step in formation of the expert community on accident prevention and flight safety management made as part of the strategic project "Industry Knowledge Center".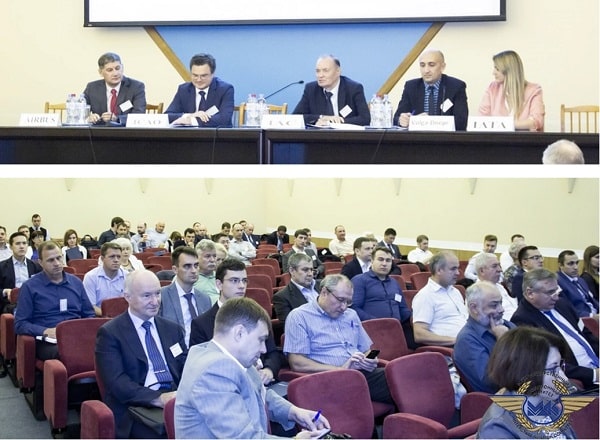 Almost 100 participants from the largest international and Russian companies and aviation industry enterprises attended the conference. The reports were made by the representatives of ICAO, IATA, Airbus, Aeroflot, Russia Airlines, Siberia Airlines, Air Astana and Volga-Dnepr.
The participants shared their achievements in the field of development and implementation of automated systems for accident prevention and flight safety management. They also discussed approaches to the development and organization of flight safety management system in their companies. It was noted that the gained experience and knowledge is of great value for further development of flight safety management system, for implementation of information technologies for flight safety and risk management associated with flight operations. Representatives of Volga-Dnepr demonstrated work of the automated system on accident prevention and flight safety management, which is successfully used in the company.
The conference venue was also the place for preliminary agreements on cooperation of the companies-participants in the development of the Knowledge Center expert community and in the promotion of information systems on the service of flight safety.
At the end of the conference at the round table, the attendees discussed urgent problems in the field of flight safety related both to information technologies implementation and to the industry as a whole.
We asked one of the Volga-Dnepr speakers – Oleg Omelyanenko, head of flight safety inspection, VDA – to sum up the results of the conference:
– I would formulate the main results of this conference for us in several points:
We have established working contacts with like-minded people to integrate our knowledge in the Industry Knowledge Center. We have formed a professional community in the Unified Information Knowledge System and made a list of the field experts.
We have become familiar with the field products available in the world market used by our partners.
We have compared our product to those of other companies; we have revealed its strengths and weaknesses and found out that it is in no way inferior to its world analogues, and in some way surpasses them.
We have found potential external customers who are ready to purchase our product on commercial basis. This confirms that we are ready to promote our experience and expertise outside the company into the industry. We know the direction for further development and what to work on to make our product high-in-demand both inside and outside the company.
Use the link in the Unified Information Knowledge System to access the Conference materials (into Russian).
Photo: https://mak-iac.org