18.06.2019
Manager – is a profession!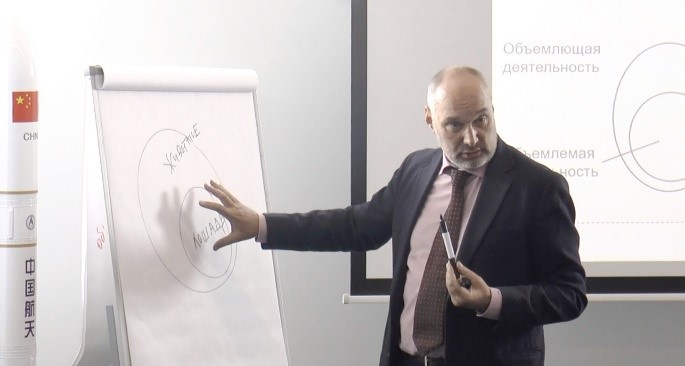 In February, April and May in the company's Moscow within the Manager School "TOP-Class", the key school of Corporate University, a series of classes on the topic "Manager – is a profession". The venue brought together more than 30 "Volga-Dnepr" managers and their successors, as well as participants of the strategic management reserve. The speaker of all three lectures was Petr Schedrovitsky, an expert and consultant on spatial development, regional and industrial policy, innovation and staff training.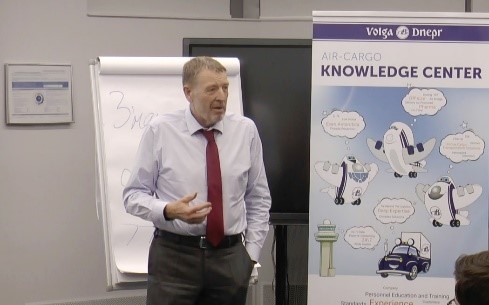 The series of classes was launched by Alexey Isaykin, the Group President. He reminds that all those present are managers, this means, those who manage other people. Alexey Isaykin points out that it is of much importance for a leader to be able to transform "a crowd" into organization, something integral, that moves towards common goals, knitted by common rules and values. Speaking about basic value – labor as a process, bringing benefit to a customer, Alexey Isaykin notes: benefit may be brought by gaining knowledge, however not the knowledge itself but the one which solves a certain issue of a certain customer at concrete time.
Further, Petr Schedrovitsky, the guest speaker, shared the philosophy of managing labor and training. The videos of the lectures (into Russian only) are available in the Unified informational Knowledge database – just click the link! (links are available for the company's staff only)
The participants share their impressions:
Vitaly Andreev, e-commerce Director, ABC
– That was an excellent conversation giving many ideas for further learning. This relates to the evolution ideas on process and staff management and further tendencies in these terms. A person learned to manage the so called mechanical labor, enhanced it, improved efficiency up to a certain level. Both new professions, appeared on the stages of industrial revolutions, and new mechanisms came to the assistance. The only aspect that has remained hidden or unexplored nowadays for further development – is efficiency of human mentality and intellectual labor. I believe people's attention will be concentrated exactly on that area soon. And we will be able to see another revolutions of an intellectual character but not industrial one this time. Actually why this question came to my mind? As for our current daily activities are related exactly to intellectual area we are working out ideas, searching the ways out of problems, doing our best to promote the company, to be better the competitors, to attract our Customers and offer them new products. And today the one wins and achieves success who managed to form unique solutions due to the company's and own intellectual resource, appropriate for Customer.
Denis Kiselev, Head of the Customer Relations Department for Specialized Services:
– The seminar was interesting and nimble. The President's reasoning on the Group's values allowed me to make sure once again of their being logically correlated and being an integral component of our business. The invited speaker – P. Schedrovitsky shared exciting knowledge on management formation concept. The performing style of the information presented was fascinating. Time passed quickly in a pleasant in a pleasant atmosphere, so I would like to thank the company and organizers for the provided opportunity to visit such an event.
Viktor Pozdeev, Director, Marketing route network management, ABC:
– It was interesting to learn theoretical aspects and match them to our organization's developments.