25.11.2016
Conquering the Sixth Continent – Making Dreams a Reality!
The results of the competition on flying to Antarctic as a flight attendant and a knowledge center technologist were summarized in September. More than 40 Volga-Dnepr employees around the world submitted their application forms to participate in the project. We do appreciate your aspiration to become conductors of the company unique experience even in most remote areas of the planet.
Nominating the winners wasn't easy as all the applicants proved their willingness to deal with most challenging tasks, demonstrated perfect English language proficiency, positive and pro-active attitude to life.
Now, meet the winners:
– Sergey Aksyutenko, leading financial analyst, ABC;
– Ekaterina Anikina, commercial schedule support manager, ABC;
– Michael Malakhaev, Air Transportation Management center deputy head, VDA.
From now on, together with customer's representatives they are going to work as flight attendants to fix and describe the unique experience of Polar flights, to make the company image in front of customers, scientists, researchers.
For now our colleagues have done the training course in the Baltic Aviation Academy in Lithuania and are looking forward to new experience on board of our IL-76 – experience which will stay with them for life.
Here's what the winners shared: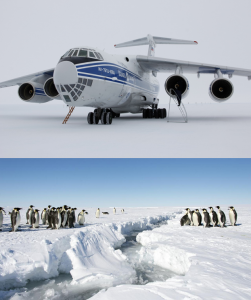 – Thank you very much for such an opportunity! – says Ekaterina Anikina. – Flights to such remote and hardly accessible places is a giant leap in the history of the company development. And as a project participant I have to do my best for the flights to be conducted safely and successfully, and for the program to iterate every Antarctic summer. When we live vivid and eventful life we inevitably start dreaming a lot. And there is always a dream which seems to be beyond sensibility and reality. For me it has always been Antarctic. Participation in this project is that unique chance to set foot on the sixth continent, to meet distinguished scientists, Polar researchers, people who make the future of Polar expeditions. The most valuable thing about it is to collect unique experience of Polar aviation and make it available for all interested. Looking forward to the first flight to Antarctic!
– The flight attendant training is completed but I still can't believe that I am the part of the program! – shares Sergey Aksyutenko. – Being an IL-76 crew member, flying to Antarctic, working with customers, presenting the company, – these are all interesting and challenging tasks. And I hope to fulfill them with the maximum benefit for customers and the company!
– The Baltic Aviation Academy training program focused on the roles of each flight crew member and flight attendant in flight safety. Flight attendant's responsibilities in terms of flight safety are considered in every discipline of the training program (Aviation security, dangerous goods, evacuation, giving first aid, CRM), – adds Michael Malakhaev.
We are sure that such contests will become a good tradition in our company. Next time it's going to be even more exciting!
Follow the news!