24.12.2018
Collecting live knowledge!
In the framework of the Aviation Industry Knowledge Center there have been conducted seminars on collecting live knowledge in Moscow and Ulyanovsk, which have become an important part of a strategic project "Aviation Industry Knowledge Center". Volga-Dnepr's Unified Information System has been supplied by more than 30 new described key events. Best practices on aerospace technics transportation and new routes launch have been gathered and recorded, the first in Volga-Dnepr's history Global Customers summit experience has been collected and much more.

We asked the participants to tell in detail about such seminars.

Sergey Burmistrov, leading specialist, AP economy, VDM

– Alive seminar – is an excellent platform for open dialogue with expert community members, specialists and professionals. This is really a unique opportunity to collect knowledge and experience directly from participants of key event in Volga-Dnepr history.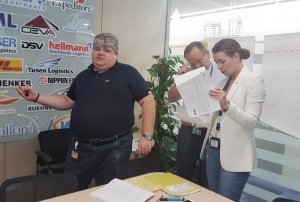 Oleg Demidov, Deputy Director, Work with aviation authorities, Department of external relations, VDM – about seminar "New routes launch. Route network development":

– For sure this is very useful as at the same time in a certain place gathered people related to this or that destination launch, that allowed to restore the events chronology almost with 100% accuracy from the zero cycle up to flights launch to all directions we were dealing with. It happened so that I was taking part in all processes: first by the regulator side and now – by the carrier side. As experience has shown, everywhere we have been facing with completely different problems and challenges requiring an individual approach to their solutions. That has been certain as for our flights geography covers absolutely various countries and cultures. And we always try to take into account peculiarity of this or that region/government. Systematization of this experience shall not only simplify the processes but also avoid our mistakes reoccurrence.
Mikhail Malakhaev, Air Transportation Management center deputy head, VDA – about the seminar on "Collecting and summarizing the experience on propulsions, cargo blocks and satellites transportation":
– We have been considering transportations for aerospace industry Customers. The outcome from the seminar for me – is that description and systematizations of knowledge and experience should be completed just at the moment and right here. On a daily basis there are transportations and occasions which should be recorded in order to improve our service for Customers. This is a necessary development element for our employees, airlines and CCT service.
Olga Sadykova, Head, Aviation personnel training center, VDM – about the seminar on outcomes of the 1-st Global Customer Summit:
– Such a format allows not just to share impressions but also structure all learnt lessons for successful implementation of similar tasks in future.
Anastasiya Oselskaya, Analyst, Automated AP&FSM systems, VDM – about the seminar "Selection and training of personnel (for new companies, offices, objectives, projects):
–  Key events description for me, as for a new staff member, who came to the company just after graduating from the university was a very interesting experience for few reasons:
Firstly, this allowed to understand better peculiarities of cargo aviation and our company's specifics, we are able to transport all size and complexity cargoes: from pharmaceutics up to aircraft fuselage, not just operating the transportation but also  committing to associated measures such as all sorts of paperwork, cargo accompanying, providing stores.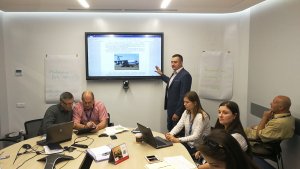 Secondly, I came to understanding that we "transport favors", performing objectives to Customers, but also taking on nonstandard, difficult and, at first sight, impossible tasks. Complicated M&R of aircrafts being in different conditions, diplomatic pouch transportation with stopovers on 17 Planet points, operating commercial flights onboard Il-76TD-90VD to Antarctica, with a preparatory aircraft modification with the purpose of technical opportunity of carrying passengers – these were extremely complex tasks, that we successfully coped with. Certainly, this impresses greatly and hopefully my labor will contribute to performing such ambitious tasks in future.