12.12.2018
Flying various routes we share training!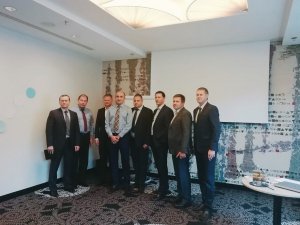 On October 2 and 3, it was already the second session this year for the Flight Operations Directors, this time flight crew representatives of VDA, АТRАN, ABC, CLA, and CLG.

Following are comments by the participants.
Maxim Sinitsin, Director Flight Operations ABC:
– During the two days, the following meetings important to VDG were held:
VP VDG Strategic Management and CCO,
Representatives responsible for prospective development in Leipzig and Saxony,
Representatives of the new Cargo Logic Germany,
Lufthansa Aviation Training.
Tatyana Arslanova clearly and openly told us about VDG strategy and perspective development trends for our business.
Representatives from Saxony, using an interactive presentation, presented current and future global projects for development in the region.
Then, Director Flight Operations CLG told about the new German airline, development plans, organizational structure, interaction with Germany aviation authorities, problem points and solution methods.
Lufthansa representatives, using colorful presentation, told about present achievements in training aviation personnel and opened a curtain to their perspective development plans jointly with VDG including all of our airlines.
All VDG airlines are proactive to participate in all discussions, brainstorms and practicing.
All joint discussions concerned the following:
–  Understanding and daily implementation of operating principles of VDG Flight Operations Divisions as a single team and output of common standards for all of our airlines;
–  Maximum possible collaboration in solving problem issues and setting goals;
– High-quality implementation of VDG strategy.
Oleg Omelyanenko, Director Flight Safety VDA:
– With each next meeting, the communication is becoming more substantive. We are very much alike, there are common problems which unite our efforts. We start to better understand each other and find right solutions to our issues.
From general theoretical conclusions we have switched to working out solutions e.g. identifying differences in training and assessment of flight crews at all Volga-Dnepr divisions in search of procedures which can and must be standardized, in other words, to make these common to all airlines.
Alexey Yudintsev, Manager Flight Crew Training, Instructor Pilot, ABC:
– Same as during our previous meetings, I was pleased with welcoming and friendly environment. I had an opportunity to get acquainted and speak to new personnel of CLA. Resulting from the meeting, we selected several work areas to take certain action to standardize processes and procedures. Once again I point out to myself that we operate in different legal environments, but at the same time we apparently think in a similar way.
Alexander Кrom, Director Flight Operations CLA:
– The Flight Directors Meeting was very useful and productive. We shared the problems and challenges we are facing, both in CLA, ABC, ATRAN and CLG. Funny thing is, that there are a lot of similarities between those challenges. We discussed how to get a common approach on pilot recruitment, training capacity restrictions, pilot career development in the Group, and further alignment on pilot competencies and operating procedures.
My main take away from this two-day meeting for me was the realization that I am not alone. With all the difficult tasks ahead of us, that is a comforting feeling. There is expertise and experience available in our Airline Group to find solutions to any problem we may face.
Sergey Pankov, Director Flight Operations, ATRAN:
– I have only positive feelings from the meeting! Acquaintance with German colleagues, Cargo Logic Germany's organizational structure, their methods and approaches. All these were very useful for understanding. I could also mention an excellent personal experience.
Notwithstanding that we operate in different legal environments, we can share experience in terms of flight crew training, flight standards etc. by way of adapting these in each field, possibly with the following establishment  of a common programme for the whole VDG for the optimum use of manpower in various markets.
Andrey Simonov, Chief Pilot, АТRАN:
– I liked the meeting very much, we were happy communicating and sharing experience! Despite certain differences in personnel recruitment, training and career development, I think we have much in common with the colleagues, and without doubt there is a reason to meet and move towards Common Standards. The meeting was very positive, the discussion was held in the form of roundtable, and optionally at leisure time. The most important idea I have learned from the meeting is that we have a common goal, and everybody's got a desire to work together!
Photos: